The iSpring RCC7 is a unique, 5-stage reverse osmosis system that can produce 75 gallons of water a day. It comes with all fittings, connections, hoses, and a dispensing faucet, making it easy to install by yourself.
This unit works by using a set series of pre-filters, then through the RO filter, and finally a carbon filter to remove residual taste and odors. The clean water is then stored in a gallon pressurized tank that has a capacity of 3.2 gallons ready for dispensing.
The iSpring RCC7 removes over 98% of heavy metals, sediments, heavy metals, and other contaminants in your water before adding back beneficial minerals that restore water pH level. The filters can last for six months depending on the quality of your tap water. The reverse osmosis membrane should be changed every 2-3 years- again this depends on the quality of your tap water.
What makes iSpring RCC7 the Best Reverse Osmosis System in Its Category?
On average, this system can produce approximately 75 gallons of pure water a day. By using pressure to push water through its filtration system, you don't need to install a push water to the filters, unless your water pressure is below 45 psi.
This system also has an auto shut off valve to avoid unnecessary loss of water through spillages.
Being a reverse osmosis system makes this unit efficient in the first place. An RO water filtration system filters wastewater to produce pure water, and for it to be considered efficient, it must not waste more than four gallons for every gallon of pure water they produce.
With a wastewater-pure water ratio of 2.5:1, the iSpring RCC7 is not only considered efficient but also one of the best when it comes to efficient units.
Using iSpring RCC7 will prove worthwhile in the long run since it will lower water wastage, thereby lowering your water bills. This will also help you save the environment.
It has a 5-stage filtration system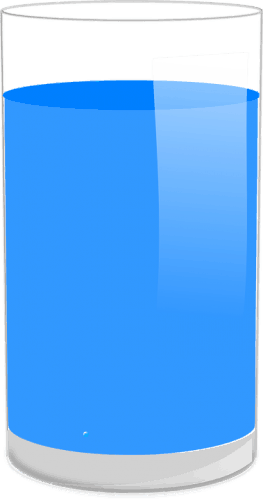 To ensure you get clean water free of contaminants, this system is fitted with a 5-stage filtration system that enables it to remove over 98% of all water contaminants. Here is what each stage entails;
Stage 1- here all particles present in water are removed by the polypropylene sediment filter. These particles include dust, sand, and rust among others. This is done in a transparent housing where you can see.
Stage 2- in this stage chlorine odors and tastes are removed by the granular activated carbon. These carbons are fitted with 5-micron filter that also removes mineral oil, halogen substances, and hydrocarbons.
Stage 3- the carbon block filter in this stage removes any odor, residue colors, and tastes. Hard-to-remove substances such as chloramines are also filtered at this stage. This filter helps extend the life of RO membrane.
Stage 4- the semi-permeable membrane fitted in the micron reverse osmosis membrane in this stage removes any harmful elements including arsenic and lead. It also ensures complete removal of copper, lead, and other total dissolved solids. Cryptosporidium and giardia, as well as other parasitic cysts, are removed at this stage.
Stage 5- here, any remaining odors and tastes are removed from the water by the polishing inline carbon that has fine granular activated carbons.
The iSpring RCC7 water filtration system is designed to fit perfectly under any modern kitchen sink. Its compact nature makes it perfect for every kitchen as it doesn't occupy a large space.
The unit comes with a user manual that explains the installation procedure. It is very easy to install this RO water filtration system, and you can do it by yourself without calling a plumber. It comes together with installation kits that you can use to connect it to the refrigerator and ice maker.
Easy to Replace Its Filter
To ensure you enjoy the services of iSpring RCC7, you need to replace its filters after it becomes ineffective. iSpring has made accessing these filters easy and also the process of replacing them is not complex. Replacement kits are available in bundles choices for 1-3 years.
The Pros of iSpring RCC7
Stellar customer service- iSpring has a helpful customer service with well-informed experts that provide valuable information on every problem you may have concerning this unit
Great value- on top of iSpring RCC7 being decently priced, it is loaded with helpful features that make it a great value item.
Efficient- with a water efficiency ratio of 2.5:1, this reverse osmosis system is one of the best when it comes to keeping your bills and water consumption low.
The Cons of iSpring RCC7
From the iSpring RCC7 reverse osmosis system reviews posted by its customers, most of them cited the poor nature of the instructional manual. Many claimed that it is not helpful as they thought. For installation, you can rely on video tutorials posted on the iSpring website or contact customer support.
The Bottom Line
There are many RO based filters, but iSpring RCC7 is the best in its price range. Certified to NSF standards, it qualifies as a quality appliance to add to your home. Besides, it is pocket-friendly and offers a long-lasting solution to pure drinking water. This filter is capable of producing 75 gallons of pure and healthy drinking water daily. It has an auto shutdown valve to minimize leaks and mishaps. With a sleek modern design, it will definitely complement your kitchen décor.