More and more people are realizing that their tap water is not as clean and safe as it should be. Even if it may seem sparkling clean from a glass, it may still contain contaminants. That's why you need a filtering device to remove heavy metals, chemicals, debris, and pathogens among other contaminants that can cause harm to your health.
One of the best water filter pitchers is the Brita 10 Cup Everyday Water Pitcher. This pitcher will ensure that you drink clean water that has moderated minerals. Because of its popularity in the market, we compiled a detailed review of this product to help you learn more about it.
What is Brita 10 Cup Everyday Water Pitcher?
Brita 10 Cup Everyday Water Pitcher is a proven water filter that is perfect for the home and office environment. It can reduce the levels of mineral contaminants such as chlorine, zinc, copper, mercury, and cadmium making your water taste great. Besides removing these contaminants, this water filter also eliminates unfavorable taste and odor thanks to its carbon and ion-exchange resin fitted on its filter. It holds 10 cups of water when full.
Brita 10 Cup Everyday Water Pitcher is affordable and durable. This makes it an unparalleled alternative to bottled water. It liters with indicators that will alert you when the filter needs replacement. These indicators have three colors: green color, which indicates that the filter is in good form; yellow color, which will alert you that you need to change the filter soon; and the red color which will indicate that the filter is in bad shape and needs to be replaced.
Check Price and Reviews on Amazon
Why Brita 10 Cup Everyday Water Pitcher Has Stood Out From the Rest
Great Design and Features

: the design of a product may seem a non-issue at first sight, but after some time, you realize that the usability of a product depends on its design. In the case of this water pitcher, its great design plays a vital role in enabling the user handle and store the water filter easily. In addition, the white color makes it blend with any décor in the house thereby preventing color crashing. Its compact nature makes it consume little space during storage. Lastly, this unique water filter has a convenient design with great functionalities filter indicators and large capacity.

Ease of Use

– this water filter is simple to use, and its designs help to this fact as well. The Brita 10 Cup Everyday Water Pitcher has a removable lid, and therefore you only need to pop off the lid and slide the pitcher under the tap when refilling it. In addition, the sticker filter indicators enable you to maintain the best performance of this water filter by indicating the best time to replace the filters. The filters can last for two months; you need to change them after using 151 liter or 40 gallons of water.

The product is certified

and has been tested and proven to reduce the level of copper, mercury, as well as other heavy metals that may contaminate your water and harm your health.
Other features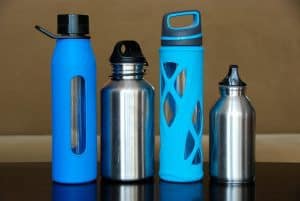 Brita 10 Cup Everyday Water Pitcher boasts several advanced features that distinguish it from other water filters on the market;
It comes with a large capacity (it can hold up to 10 cups of water)
It has "Sticker Filter Indicator"
It comes with compact design and has sturdy handle
One filter will replace a lot of standard water bottles
It comes with one pitcher and one filter
It has a perfect size and is a BPA-Free product
Pros of Brita 10 Cup Everyday Water Pitcher
The sticker filter indicators notify you the best time to change the water filter
It reduces chlorine odor and taste, as well as other heavy metals such as mercury, cadmium, and copper to deliver safer, great tasting water
It is easy to use as it has fewer functionalities to learn
Its filter offers reasonable service, filtering 40 gallons of water before replacing it
The product has a comfortable grip for easy pouring
It has a locking lid to ensure no-spill refilling
The Cons
It lacks a flip lid, meaning that you have to change the lid on your own
Check Price and Reviews on Amazon
The Final Verdict
Brita 10 Cup Everyday Water Pitcher is a tested and proven product. This water filter has garnered a lot of positive reviews from happy users. It will make your drinking water healthier, cleaner, and taste great. We can recommend it to all health-conscious individuals.